Akhuwat-Pccm College Lahore begins admissions to different programs. Akhuwat-Pccm College offers I.com, B.com, M.com, MBA and computer science certifications. admissions open in Fsc pre engineering and pre medical last date of submission of admission forms: April 10, 2022.
The admission session 2022 to 2023 for FSc pre pre-medical engineering, ICS and Arts.
Eligibility criteria:
for admission to Pre-M and Pre-Engineering applicants must have a minimum of 75% or more grades in 9th class.
for admission to ICS the grades must be in Matric or 9º more than 70%.
The monthly income of the parents should not be more than 25000 /-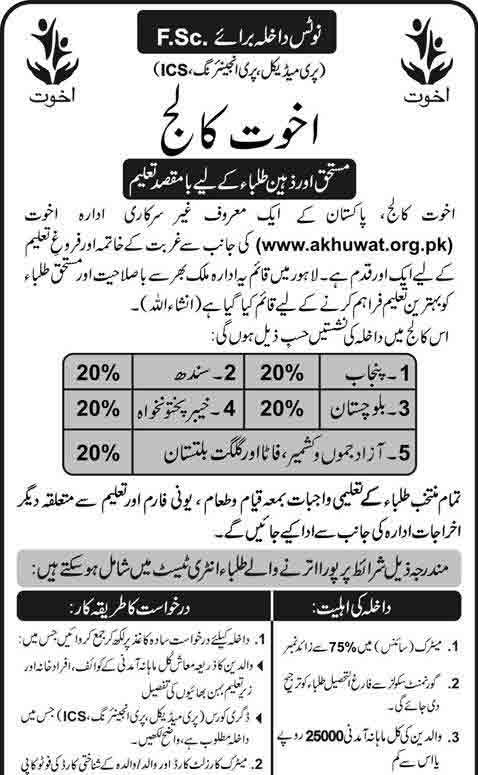 Phone Numbers
92-42-35836736-36147736
Email
Address
47 Tipu Block (New Kalma Fly Over) New Garden Town Lahore.
For online registration: www.pccm.edu.pk
www.akhuwat.org.pk 2022 application form
akhuwat college Lahore admission 2022
akhuwat scholarship
akhuwat college Lahore admission form 2022
akhuwat kasur school
www.akhuwat.org.pk 2022 application form
akhuwat admission to university 2022
akhuwat chakwal college
The Pakistan Law School (PCL) was established in January 1996. He has been affiliated with the University of Punjab since September 1996. The university campus is located at 46-A Tipu Block, new Garden Town, Lahore and is managed by a private sector non-profit organization. To further propagate this tradition of excellence, Pakistan College of Commerce & Management (PCCM) was established in 2010 in a modern and well-equipped building, adjacent to the Pakistan Law School. This institution of excellence caters to the demanding student aware of quality. It is the culmination of many years of planning and research by PCL management to create a knowledge center in the Commerce and Management sector. Since its inception 17 years ago, Pakistani College of Law has continuously progressed in obtaining the top position in the University's results, along with international linkage programs, certification courses and the outstanding performance of our students in international forums. All of these achievements have made PCL the nation's premier law school. What makes PCL programs special and even more unique to Pakistan College of Commerce & Management, is the breadth of our curriculum, an impressive intellectual community of teachers and academics augmented by visiting professors, as well as the constant participation of highly experienced professionals in university activities. At PCCM we will provide our students with a very personal experience of getting to know their faculty, their Dean, the Director of the Institute, along with luminaries from the academy and the real world. Our students are exposed to eminent scholars from around the world, representing prestigious institutions and who in turn are leaders in their areas of expertise. At PCCM we intend to become the nation's best and most progressive trade and management college, so we will ensure that our students are prepared to prevail in the changing market and strategically position themselves for illustrious
Address: 19-Civic, Sector A-2, Township, Lahore.
Near Mihaj-ul-Quran University.
Phone: 042-35122743, 35156382
fax: 042-35157257
Email: [email protected]
DR. MUHAMMAD AMJAD SAQIB (Executive Director)
Email: [email protected] , [email protected]
Mobile: +92 300 842 0495
Scholarship admissions for Balochistan students after matric
Akhuwat College Lahore offers free education scholarships for Balochistan students, who have obtained 75% or more in the annual SSC Matrix exams of the Secondary School Certificate. Free education will be from the 1st year until the Fsc Completed in this scholarship Akhuwat College offers tuition fees, residence and food expenses up to Fsc Completed if you know any Balochistan student who obtained more than 75% of the qualifications can get free education through the Akhuwat College Lahore Scholarship Scheme.