Pakistan Ready made Garments Technical Training Institute Lahore Offering free technical education with monthly scholarships will be given to candidates selected for this course. PRGTTI Lahore is providing free technical education with a stipend of Rs. 1500/- monthly.
6-month course scholarships: 9000/-
3-month course scholarships: 4500/-
Free education
Free books
Free uniform
Free bags
Six-month course:
Merchandising Management
Quality control
CAD/CAM/Computer Pattern DESIGN
Apparel Supervisor
Pattern
Dress making
Industrial Stitching Machine Operator is a 3-month course.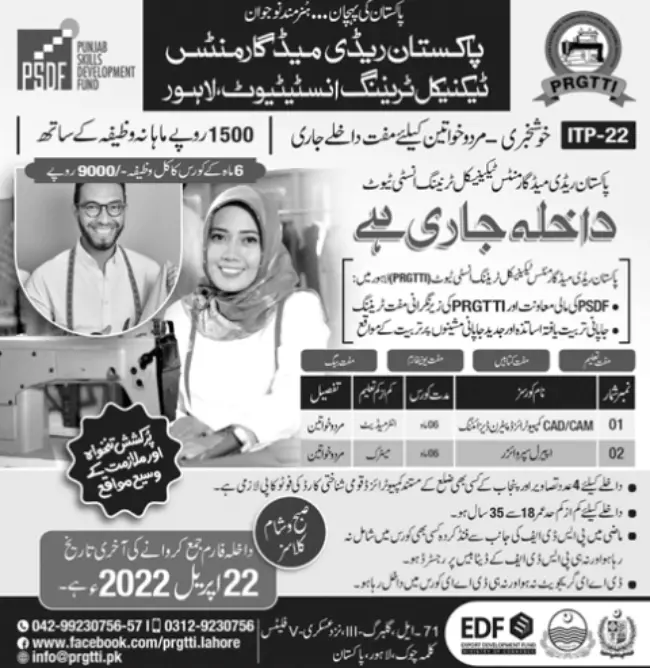 Last date for submission of the application form: April 22, 2022
The Government of Punjab Lahore offers six months of free education program with scholarships of Rs. 2500 / – to each student, who obtained the admissions, these admissions are available to both male and female candidates.
Eligibility for Free Education:
Interested candidates submit applications for admission with certificates of education, address, copies of the computerized id card with two passport-size photographs submitted to the admission office before April 22, 2022.
Details of the courses offered by PRGMEA:
Industrial Sewing Machine Operator Course
Computer Design Autocad Operator Course
Course of making and design of dresses
Certificate in progress of mastery drawing qualification
Quality control and assurance course
Contact us
343-A, New Bhabrra, Main Ferozepur Road,
Lahore, Pakistan.
Phone : (+9242) 35858221, 35852946, 35851277
Fax : (+9242) 35858231
Email: [email protected]
Read also: GC University Lahore Admission to BS Hons BSCS Computer Science for admission to MA and MSC in addition: GC University Lahore Admission 2022 MA/MSc Last Date